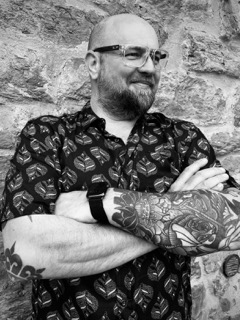 Hi, I'm Michael Kuehbandner, a lighting designer with over 30 years of experience in the entertainment industry. My tagline is "striving to amaze your audience" - and that's exactly what i do with every project.
I was born in Regensburg in 1973 and now live with my wife and two kids in Munich. In 1994, I completed my education as a technical drawer and since then, I've been immersed in the world of lighting design, as a designer, director and programmer.
My lighting designs are always straightforward, on point and precise. They clearly communicate the intended message to the audience and integrate all assets on stage into a coherent whole. I believe that simple but powerful lighting is key in order not to overwhelm the audience and to set the stage for the artist properly. I strictly follow the "less is more" philosophy and aim for unusual, alternative approaches that create a contemporary and stylish look.
My expertise in CAD drawing and planning, as well as 3D visualization, enables me to bring my creative vision to life in a way that's both practical and visually stunning. In addition to my technical skills, my personality is characterized by an always calm and confident manner, which helps to keep things running smoothly. My professional and customer-driven way of handling things ensures that the client's needs are always the top priority.
Over the years, I've had the pleasure of working with a variety of internationally well known lighting designers on a multitude of national and overseas TV shows and Events. I worked with major brands such as AUDI, BMW, SONY and SAMSUNG on reveals and trade shows in Europe, Asia and the US. My lighting designs have been recognized with a prestigious Cannes Lion award, and my experience has helped to set new standards in lighting live sports events. On the touring side of live entertainment, I've worked all over the world as a lighting director and programmer, spanning the whole spectrum from "The Three Tenors" to "Soulfly".